Knitwear Season Has Arrived
September 15 2023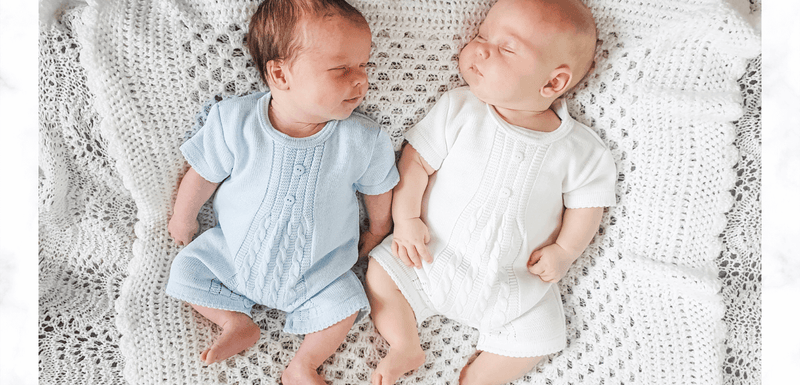 As the leaves change colour and the cold days are coming back, it's a sure sign that autumn has arrived. Autumn is one of our favourite seasons as we get to dress our little ones in cosy and adorable knitted outfits. Knitwear season for babies and toddlers is a time when fashion meets comfort, allowing your precious baby boy / baby girl to stay warm and stylish.
Warmth and Comfort
One of the reasons why baby knitwear is perfect during the colder months is its ability to provide warmth and comfort. Our baby knitted outfits, and accessories are made from soft and breathable materials that keep your baby snug without overheating. The gentle stretch of knit fabric also ensures that your little one can move and play comfortably.
Versatility
Knitwear is incredibly versatile, making it suitable for many occasions. From casual playdates in the park to more formal family gatherings, there's a knitted outfit for every event. Dress up your baby girl in a beautiful knitted dress or you're baby boy in a comfortable romper or little trouser set for everyday wear and what better way to finish off a winter outfit than with a baby knitted hat.  
Sustainability
Knitwear is often associated with sustainability. Choosing high-quality knitwear for your baby or toddler means investing in items that can withstand wear and tear, making them last longer. This reduces the need for frequent replacements, which can lead to less textile waste in the long run. Look for baby knitwear made from natural fibers like organic cotton or wool for an eco-friendly choice.
Our tips for choosing and caring for your knitted clothing:
Size Matters: 
Ensure that you choose the right size for your child to maximise comfort and mobility. Remember that babies grow quickly, so consider sizing up if you want the little outfit to last through the season.

Layering is key to keeping your baby warm in knit. Opt for onesies, leggings, or tights underneath to provide an extra layer of insulation
Easy Care:
Check the care instructions on each knitted item to ensure proper maintenance. Most knit can be machine washed on a gentle cycle, but it's essential to follow the manufacturer's guidelines to prevent stretching or pilling.
Accessories: 
Don't forget to accessorise! Knit hats, mittens, and booties can complete your baby or toddler's cosy look while keeping them warm.
Now it's time to embrace the colder weather by dressing your little ones in their own gorgeous and practical knitted outfits. Not only will they stay warm and cosy, but they'll also look adorable in their Autumn/ Winter fashion. 
At Peanutpie we stock the cutest little knitted outfits for baby boys, baby girls and unisex. Shop our collections here.
Lynne & Gillian XXX